10 Great Things To Do With Kids in LA
---
April 23, 2017
USA
---
---
I'm always looking for kid-friendly things to do in every city we visit. Since I haven't yet visited Los Angeles, I asked my friend Bar de Briere who runs Infomiss, to contribute a guest post: 10 Great Things To Do With Kids in LA. Thanks Bar! – Karen
---
---
Visiting Los Angeles
Our worldschooling family is from Los Angeles, California, home to a couple of the worlds most famous beaches and of course, Hollywood. My favorite area of LA is Santa Monica, a beach city that we happily call home.
There is so much to do in Los Angeles, and with perfect weather year-round, every day is a good day to explore the city.
Los Angeles is definitely a kid-friendly city and you can find loads of interesting things to do in LA. If you are looking for classes to join during your visit to LA, the cities museums, science centers, libraries, gyms and citywide Parks and Recreation centers offer well-organized classes and events. I cannot imagine a day when our kids would be bored in Los Angeles.
Here are ten things to do with kids in Los Angeles:
Bike the Boardwalk
If your trip to LA is a short one, I recommend renting bikes to take in the maximum amount of beach sights at a faster yet still relaxed pace. We rent bikes near the Santa Monica Pier near Big Deans Oceanfront Café. If you head south on your bikes you will ride toward the interesting boardwalk sights of Venice Beach. Ride north for a less congested ride towards Pacific Palisades. Renting for 2 or more hours will give you time to make stops at the beach side play parks during your ride to let the kids get their play on. You will need to leave some form of ID with the bike rental place. Bring or request a chain lock.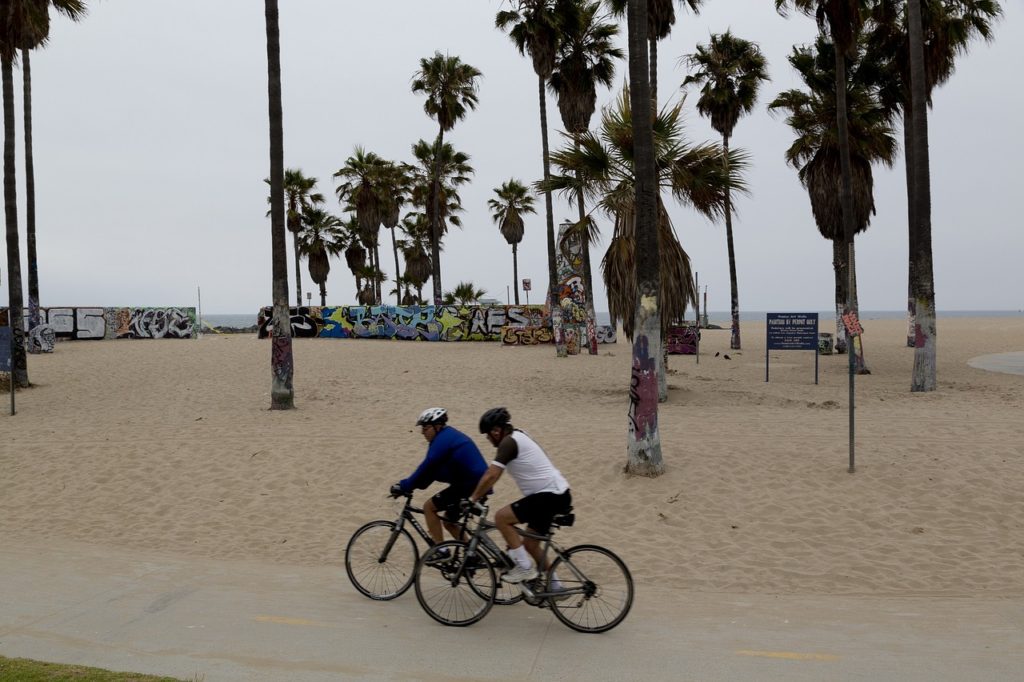 Santa Monica Beach and Pier
If you're looking for a cheaper alternative to Disneyland, plan a half-day at the Santa Monica Pier and Pacific Park. Bring your physical AAA card to get a discount on tickets. After you've enjoyed the fun rides and games, check out the aquarium at the base of the Pier and be sure to take in a carousel ride.
If you're hungry, and by now you probably are, Big Deans (on the boardwalk near the Pier mouth) has great burgers and onion rings and close by is Hot Dog on a Stick, a favorite of our two kids for a quick bite.
Museum and Monorail
A Getty Museum visit includes a monorail ride up to the museum in addition to gardens, fountains, restaurants and amazing art. There are plenty of food choices on the hill including two cafes and one fine dining restaurant as well as coffee and snack carts. You can explore the beautiful landscapes of the Getty, enjoying the modern architecture and amazing views of Los Angeles while the kids play around the grounds and fountains. I have been to the Getty many, many times, and I never grow tired of being there.
Farmers Market
If you want a 'live like the locals' experience, this would be it. A Sunday favorite for our family is to walk down to Main Street in Santa Monica for breakfast and fresh, local foods at our local Farmers Market. The market in Santa Monica usually has a fun band playing and pony rides! Find other area farmers markets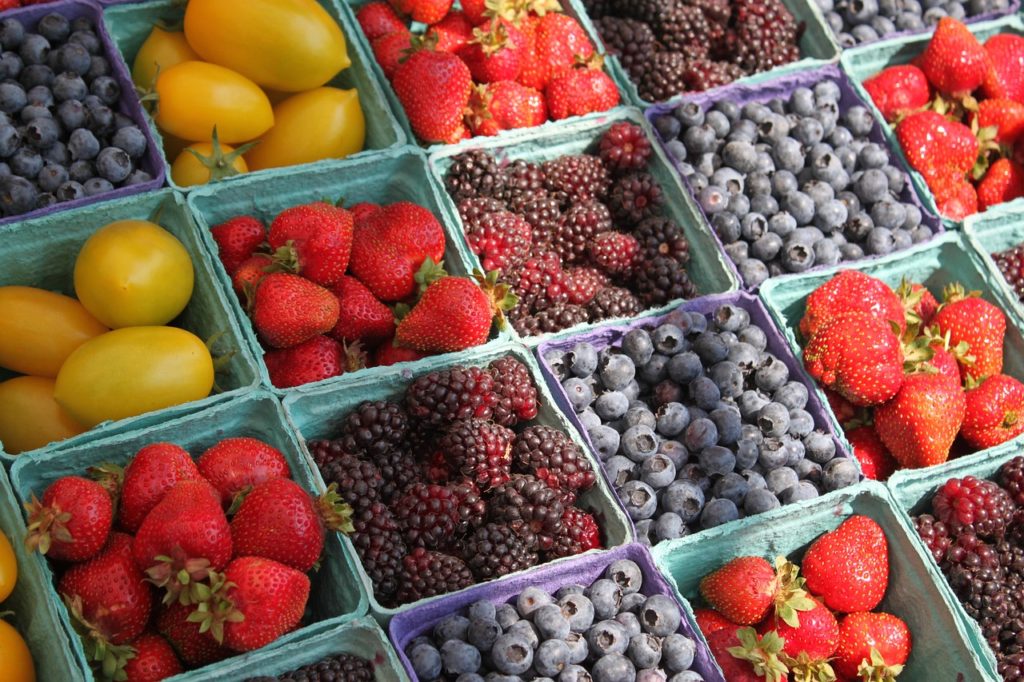 Hit the Beach
Santa Monica State Beach, Venice Beach, Zuma Beach, and Manhattan Beach are some of LA's well-known beaches and each beach has a slightly different vibe. If you're looking for beachy activities you can take surfing lessons, body surf, skateboard, rent rollerblades or layout in the sun while the kids build sandcastles. You can choose to set up near one of the lifeguard stations and there are showers and bathrooms near the boardwalk.
Hiking
There are hundreds of hikes around the hills of Los Angeles. Of course, THE hike to do is in Griffith Park to see iconic Hollywood sign. This is not necessarily my favorite LA hike because the trail is mostly fire road; however, the wide, even path does make it an easy hike for younger kids. The hike is thankfully a short one as there's not much shade on the gradual uphill route. Remember sunblock and a hat or umbrella for sun protection and don't leave your valuables in view in your car. Tip: If your kids aren't big walkers, there's a great place to get your Instagram shot with the Hollywood sign very early on in the hike.
Museums
The California Science Center (near USC) offers free admission for regular exhibits. Space shuttle Endeavour is a popular attraction. For children 7 & under, visit their Discovery Rooms.
The La Brea Tar pits and Museum is the place to go to see what LA would have been like 50,000 years ago. Visitors can see science and discovery in action; explore the tar pits and see the many fossils found in the tar pits over many centuries.
Parks
Our favorite park is right on the Santa Monica beach near the Pier. You will see kids and grownups alike playing on aerial rings, climbing ropes, gymnastics bars and regular playground equipment. There's a little kids play park and bathrooms are nearby.
Clover Park, located near the Santa Monica airport, if a fun time especially if your kids might enjoy watching the planes and helicopters arrive and depart. Other favorite Santa Monica Parks of ours are Douglas Park on Wilshire Blvd. and Marine Park. Both Douglas and Marine Parks are spacious and have large sand lots and great play equipment.
Disneyland and California Adventure Parks
A 45-minute drive from Santa Monica, in good traffic, Disneyland is LA adjacent enough to make it on your LA itinerary. The entry tickets prices have gotten out of hand, but if you can swing a visit, you'll want to visit California Adventure as well. We prefer the California Adventure rides to the Disneyland rides plus California Adventure has wine! A visit to Disneyland California Adventure Park is always better on a weekday during the school year.
Walking Tour of Los Angeles
The King Family from Worldschooling Central love a good walking tour, so this one is for you – and your readers of course! The Los Angeles Conservancy provides curated walking tours all around LA that will introduce you to the cities top architectural buildings and significant places. These tours are quite popular, so book early.
Thanks to Barbara and her husband, Andrew, for their insights and list of places to bring the children in Los Angeles. I'm putting several of these on my own list when we visit! Check out their site, Infomiss.com, a resource for world education and sustainable traveling.
---
Guest Post Bio
Hi, I'm Bar! My family began our travels in early 2016. Our kids world school /un:homeschool. We strive for a minimal carbon footprint and are currently traveling and working in SE Asia.
---
Write For Us
Would you like the opportunity to write a Guest Post for inclusion at World Schooling Central? For full details, click on the image below!